Check out the updated version of this blog here: A Day in the Life of an OBM with Chelley Wild

---
Back when I was working day-to-day as an Online Business Manager (OBM), there was one bewildered expression I got used to seeing a LOT. Typically, it appeared after answering the question – "So what do you do for a living?".
Cue this: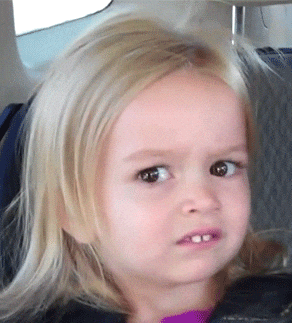 I get it – OBM is a role many people haven't heard of before. Hell, I'm pretty sure my mom STILL doesn't understand what I do for a living!
A lot of people thought I didn't have a "real" job. Many thought I was just a 'stay at home mom' with a small side hustle to entertain me. Most of them thought that I just chilled out on the sofa in my pyjamas all day long, whilst saying I was "working" (OK so the PJs part is true – but hey, no shame here!).
For me, THAT is the beauty of being an OBM. Everything I thought I knew about working a full time job and earning great money got thrown out of the window.
I didn't NEED to work a soul-sucking 9-5 or climb the corporate ladder in order to be "successful". Or to hit my financial goals.
Being an OBM taught me that it IS possible to work full time (on my own schedule), and make a consistent high income from home each month.
It showed me I could have all that AND the freedom to be around for my kids every day before and after school.
Not to mention the flexibility I have to go back to Canada whenever I want to visit my family! In short, becoming an Online Business Manager was a TOTAL game-changer.
I'm always asked by aspiring OBMs (and those who don't have a frickin' clue what an OBM is), what a typical day in the life of an OBM looks like. So I want to give you a behind-the-scenes peek at what us OBMs get up to, and how we really make sh*t happen!
Let's dive in and take a look at what a typical day looked like for me as an OBM.
A Day in the Life of an OBM
The best part about the OBM role is that no two days are the same. This makes for super interesting and really varied days, which never get boring!
We're managers who make sure things get done by the right people, at the right time, in the right way. These are our core responsibilities.
The general formula for the way our days pan out is almost the same across the board. Of course, each OBM has their own unique personal life which they also work around too. For me, I had 'mom schedule' and 'OBM schedule'. Regardless, for a lot of OBMs, the 'phases' of our working days are fairly similar.
A typical day goes something like this: Planning → Supporting → Doing → Supporting → Planning. So let's see how that worked around my mom responsibilities.
AM: From mom-mode to OBM
My typical day in the life of an OBM would start by firing up into mom mode. I'd feed my kids and get them ready for school, before taking a walk through the kibbutz to drop them off.
I'd get back to the house around 9am, and have an hour of 'me-time' to get in a feel-good headspace before I put my action pants on. This hour was mine to do WHATEVER I wanted. Sometimes that would mean doing a yoga class. Other times to have a relaxed breakfast and coffee. The point is, this was my hour to do whatever I felt called to do in order to feel great and ready for the day ahead.
The Planning Phase
Around 10am is when I'd head to my office and get in full on OBM mode. The first portion of the working day was my planning phase.
This involved checking my calendar and checking my PM tool (e.g. Teamwork PM) to get clear on what was lined up for the day ahead. Thats right – NO EMAILS until I'd figured out my plan of attack!
Once my plan was in place, then I'd check my emails to compare what I had planned with any urgent requests from my clients. That way I could move things around and set my schedule firmly in place, before actually going through emails and responding.
The Supporting Phase
Next on my plate would be the supporting phase of the morning. This is where I'd check in with my clients team and make sure everyone was happy.
I'd typically check in with everyone via Slack or Teamwork Chat to make sure they were clear on what their priorities were for the day. This would be the time where I'd address if anyone needed anything, clear up any questions, and follow up on anything important from the previous day. Happy team = happy manager!
The Doing Phase
Now as an OBM, the doing phase should be the smallest part of your day. After all, we're the implementors, NOT the do-ers.
So I'd spend this time doing the higher-level activities which required specialist skills, or those that involved larger overall responsibility. I'd work on things like higher-level funnel mapping, building out campaigns in the back end of my clients business, and getting all their systems straightened out. The list goes on!
Delegation is KEY to being a badass OBM, and being able to identify and bring on the right team members is a skill that's worth its weight in gold.
PM: Back to Supporting, Planning, and Mom-ing!
Post-lunch break, I'd come back around full circle into the supporting and planning phases.
By this point, I'd have done all my 'do-ing' in my clients biz. So then it would be time to return to supporting the team. I'd check back in with everyone, follow up on the days tasks, and make sure everyone has what they need in order to do their thang!
Once my client's team were in order, I'd take on the final task for the day – planning for the next day or the rest of the week at large. Taking some time at the end of each day to plan  ahead made life SO much easier for me to stay on top whilst managing multiple people.
Finally, it was back to good ol' Mom-ing! Right in time to pick up the kids from school and do the things we love – like go to the beach, or play at the park. After all – THEY are why I chose to become an OBM. And THEY are why being an OBM is so much more than just being a business owner.
Now over to you: What does a day in the life of an OBM look like in your OBM biz? Is there anything more about the OBM day-to-day you're dying to know? Drop me a comment below.
Comments